Description
This beautiful island is only 30 minutes from the port and is considered one of the quietest in the area. Ideal for families with children. You can go snorkeling or just lie on the sand and relax. Isla Iguana is located right next to Isla Aroma .
Isla Iguana has private cabins with sand floors and shared bathrooms and Dorm type cabins (you will share the cabin with other visitors) the floor is sand and the bathrooms shared.
If what you want is to relax and listen only to the sound of the waves, visit Ariyaladub or Iguana Island in the Guna Yala archipelago, where you can enjoy white sand and turquoise waters. Bring your snorkeling equipment as it has an excellent reef where you can see manta rays, Lion fish and many colorful fish.
Dorms with sandy floors and shared bathrooms
One night and two days $150
Two nights and three days $200
Three nights and four days $250
All prices are per person. Each additional night in Dorm costs $50 and includes all 3 meals. Share the Dorm with other guests
Private cabins with shared bathrooms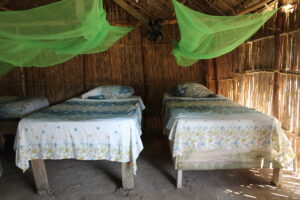 One night and two days $155
Two nights and three days $210
Three nights and four days $265
All prices are per person. Each additional night in private cabins is $55 and includes all 3 meals.
All packages include:
Ground transportation.

maritime transport
A day tour to 2 islands and the natural pool. If you stay more than one night and want an additional day tour. You can add it for $30 per person.
Includes all meals beginning with lunch on the first day and ending with lunch on the last day.
Late check out of the island.
Certified drivers and guides.
Packages do not include:
Entrance fee to the Guna region = $22 foreigners, $7 residents of Panama.

Drinks.
Snorkeling equipment
How to Book / How to book
When making the reservation from our website, keep in mind that you are only separating your seats. You will receive a confirmation of your reservation from us and payment is made as follows. We will send you a link to separate your quota with USD50 and the rest you pay in cash on the day of the trip at the time of being picked up.
If you want to pay for the entire trip with your credit card, we will send you the link and only add 7% of the transaction fee. Remember that there are no ATMs on the San Blas islands.
Price clarification
Entrance tax to the region
Foreigners = $22
Panamanians = $7
discounts
People over 10 years old pay the full price
Children, between 5 and 9 years old, have a 30% discount
Children under 4 years old do not pay, but must be loaded in the car. And their parents must pay their meal expenses.
Don't forget to bring:
Original passport if you are a foreigner.
ID (Cedula) or resident card if you are Panamanian
Towel
Soap
Shampoo
Sunglasses
Cap or hat
Sunscreen
Water (you can also buy on the island)
Cash (we do not have ATMs on the islands)
Flashlight (since the power plant works from 6pm to 11pm)
San Blas, paradise awaits you.